Slice of Life: Transportation in Haiti

Transportation in Haiti
Transportation in Haiti can be an adventure. As one of the poorest countries around, Haiti does not have the best infrastructure, especially when it comes to a public transportation system. No subways, no buses, no trains, and no New York style taxies.
Most Haitians are too poor to afford a car. If a family can barely afford a bag of rice to feed themselves for a month, the car payments are not an option. There are some Haitians that own cars, but these don't constitute the majority.  If you are traveling and have the money, you can certainly rent a car when visiting. However, most Haitians rely on walking, riding bikes, and tap taps.
A tap tap is a Haitian version of a taxi.  Some tap taps are buses.  If you ride one of these, you can expect, especially if you are riding downtown Port-au-Prince during rush hour, to be squashed in a twenty person capacity bus with about forty other Haitians. The sides of these buses are decorated with some of the most beautiful Haitian graffiti ever seen (See below).
Another version of the tap tap is a pickup truck with benches installed and sometimes with a canopy thrown over the top. These, too, can get awfully packed and it is not unusual to see Haitians spilling out the backs of these and hanging on for dear life. Both buses and trucks have designated routes, but don't ask for a tap tap route map.  They don't exist.
Sometimes a motorcycle can also function as a tap tap piling on as many people and cargo as possible. The fee is a bit more expensive, but in most cases the driver will take you to where you want to go.
Tap taps really are the cement that hold Haitian cities together. You can't ride tap taps for free.  Using a tap tap, especially if you have to travel a distance, can be financial concern for the Haitian people.  Some of our HCN students incur this expense while trying to get to the school for their lessons.  Not all our students live within walking distance.
Another thing about many Haitian drivers. Turn signals are optional and pedestrians considered a nusance. You hear a lot of horns honking and vehicles on the move.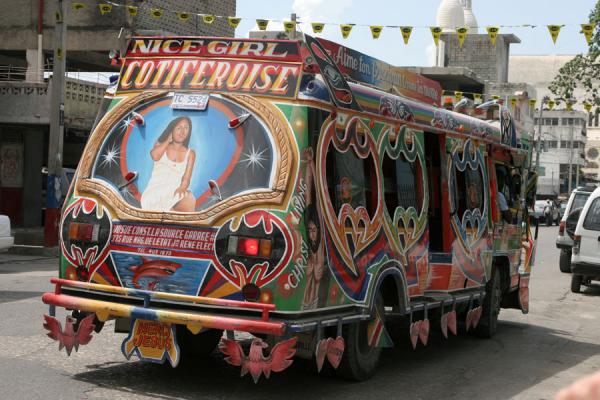 The Haitians also use a donkeys as a way of transporting goods to markets or to carry things up the mountain sides to small villages like the picture below shows.
There are a few airports with the main one being in the capital of Port-au-Prince. Most of the supplies that are shipped in to one of the ports and then transported out from there.
So when traveling to Haiti do not expect luxurious traveling accommodations.
Heidi